Perth Astrofest Curator
For the years of 2020, 2021 and 2022 I have been the curator of the Astrofest Astrophotography Exhibition (and competition).
The Astrofest exhibition brings together the best astrophotography tallent of Western Australia. The exhibition features at the Astrofest event each year and then travels regionally from there around the state as opportunities permit. I consider it a privilege to be entrusted with the responsibility of running this wonderful exhibition and try to improve it each year.
Runnin the Astrofest exhibition takes considerable time and effort, and as such for a few years now I have not run my own exhibitions. I still take the photographs, use them in my workshops, sell them for copyright use, but have not had the opportunity to exhibit my own work.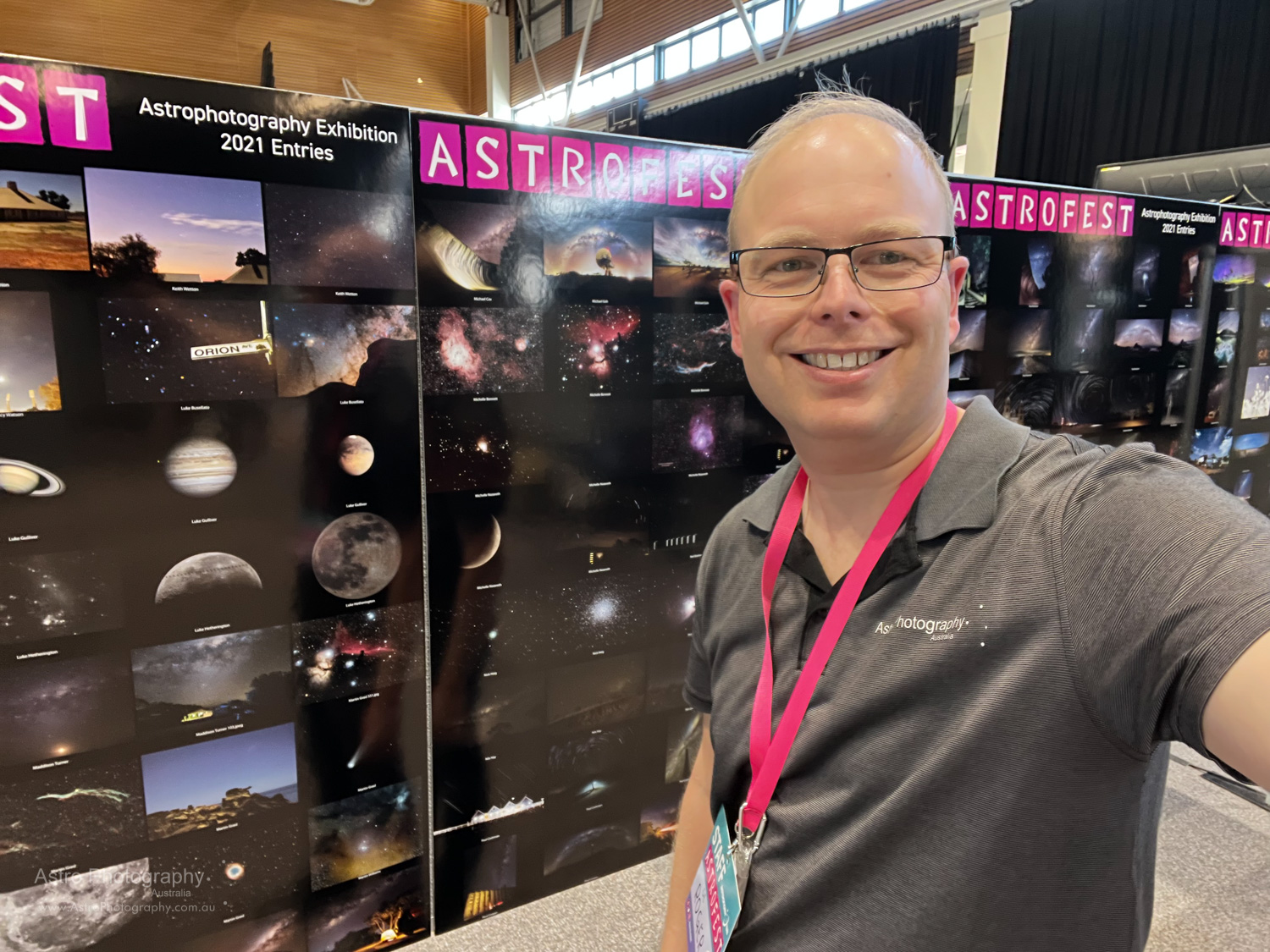 Exhibition - Perth Observatory
The Perth Observatory currently hosts a collection of my astrophotography. This exhibition contains photographic prints with a diverse range of subjects from constellations, to conjunctions with landscape elements, nightscapes, nebulas and star clusters such as Pleiades (The Seven Sisters) and 47 Tucanae Globular Cluster.
Exhibition - Planets – March 9th – 30th, 2014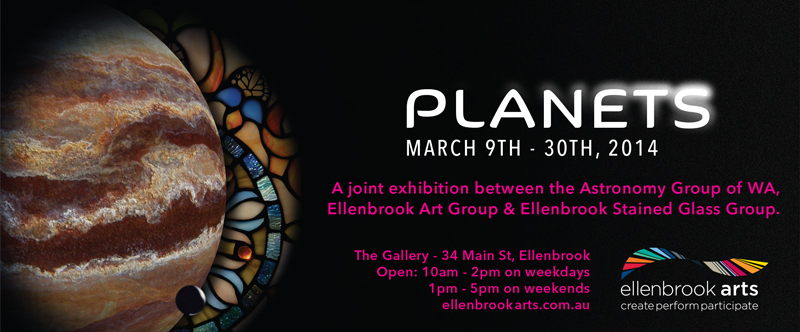 The exhibition "Planets" is a joint exhibition between the Astronomical Group of WA (AGWA) and Ellenbrook Art Group & Ellenbrook Stained Glass Group. This exciting exhibition has a mix of media and approaches to representing astronomical subjects in art.
This astrophotography exhibition will incorporate astrophotography prints from a diverse group of 20 photographers, all from Western Australia. Each photographer will be exhibiting up to 3 prints, resulting in a large exhibition with a good array of photographs to browse.
Roger Groom of Astro Photography Australia will be exhibiting canvas prints in this exhibition at Ellenbrook.
Planets, the exhibition, is on from March 9th to 30th 2014 at "The Gallery" – 34 Main St, Ellenbrook, Western Australia.
Exhibition - Australia, The World and Beyond 2013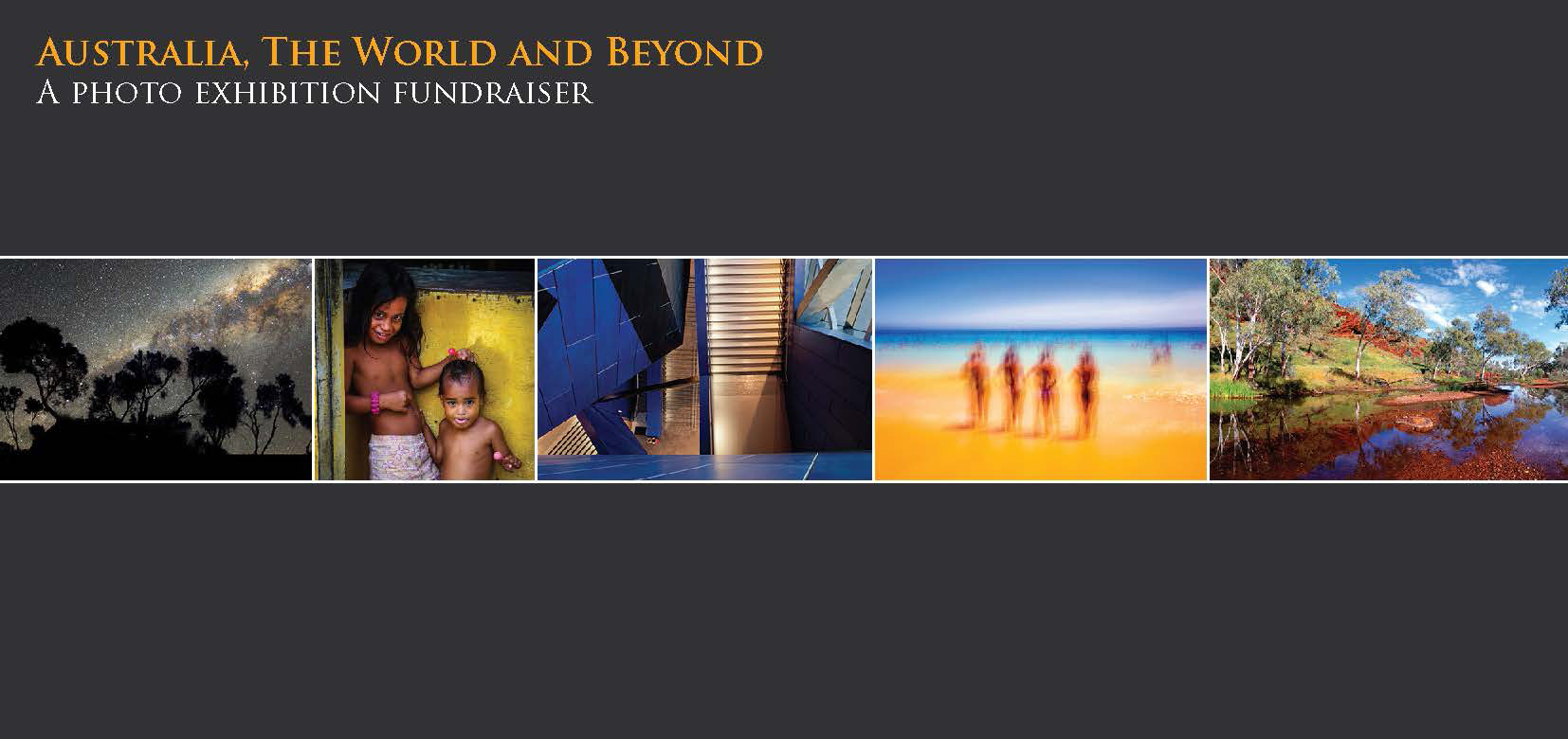 Australia, The World, and Beyond was a free photography exhibition at the Perth Town Hall from December 9 to 15. Featuring beautiful photography from five WA photographers, Australia, The World, and Beyond is a fundraiser donating part proceeds from photography sales to Opportunity International, a charity providing microfinance loans to start-up businesses in developing countries to help break the poverty cycle. Entry was FREE entry but donations encouraged!
Roger Groom's astrophotography (aka Astro Photography Australia) featured heavily in the exhibition, with a wide range of recent work exhibited and available for ordering or purchase of displayed exhibition prints. Below are some photographs showing astrophotography at the exhibition:
The exhibition was the brainchild of Jeff Robson, CEO of financial analysis specialist firm Access Analytic, who is also an avid photographer. Photos exhibited will include Australian landscapes by Berenice Carter, impressionistic seascapes by Johannes Reinhart, astro photography by Roger Groom, urban landscapes and architecture by Mike Wishart and Asian, European, and North American travel photos by Jeff Robson.
Exhibition - Wide Horizons – 2010
This started with the first solo exhibition at Gravity Discovery Centre in 2010 and will grow to include other print exhibitions as well as electronic exhibitions.
All prints shown in the exhibition are available for order and purchase. Some are in stock, others require a 1-2 week production time.